WHEN WORKING ON A BASEBALL TRIP SCHEDULE IN THE EARLY SPRING OF 2005, I SAW THAT I COULD MAKE A SIDE TRIP TO DYERSVILLE, IOWA AND VISIT THE "FIELD OF DREAMS" MOVIE SITE. BEING A FAN OF THE FILM AND HEARING SOME POSITIVE REVIEWS, I DECIDED TO MAKE THE SIDE TRIP. IT IS ONE I WILL NEVER FORGET AND ONE THAT I VERY HIGHLY RECOMMEND.
BASEBALL PLACES LIKE BASEBALL PARKS SEEM TO LEAN TOWARDS THE ELECTRONICS OR THE EXTRAS. THE "FIELD OF DREAMS" SITE, LIKE WRIGLEY FIELD OFFER A LOT BY DOING VERY LITTLE.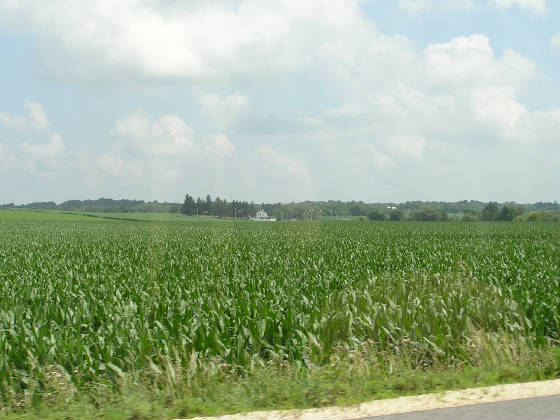 DRIVING THROUGH THE CORN FIELDS OF IOWA, THE VIEW FROM AFAR WHICH I CAN ONLY IMAGINE WOULD BE EVEN MORE SPECTACULAR AT NIGHT WITH THE LIGHTS ON, THE FIRST VIEW OF THE "FIELD OF DREAMS" MOVIE SITE.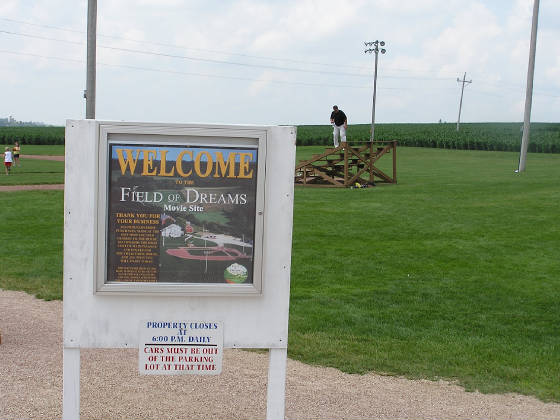 THE FIELD OF DREAMS MOVIE SITE
LOCATION ::: DYERSVILLE, IOWA
MY FIRST VISIT ::: JULY 6, 2005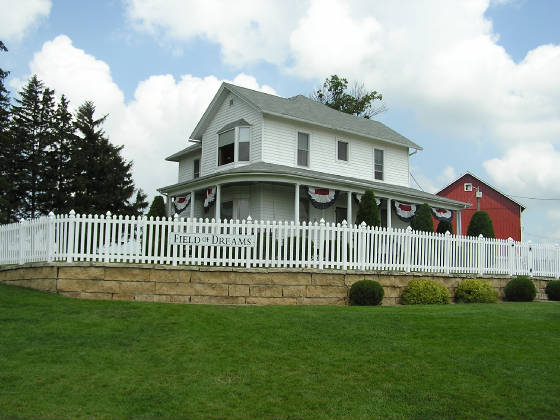 IT IS ALL HERE .. THE HOUSE, THE CORN, AND THE BLEACHERS WHERE THE LITTLE GIRL WAS CHOKING ON THE HOT DOG.

FAMILIES PLAYING ON THE FIELD WITH OTHER FAMILIES .. FATHERS AND SONS PLAYING PEPPER IN RIGHT FIELD ... A DIFFERENT GROUP HAVING A CATCH IN LEFT FIELD.

ALL WITHOUT ANY FRILLS, JUST A THICK GRASS FIELD AND A WHOLE LOT OF CHARM.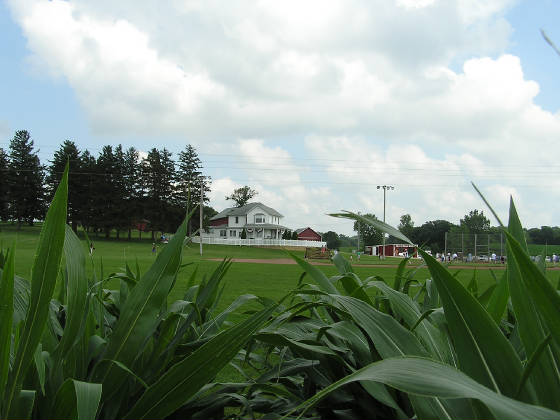 I WALKED THROUGH THE CORN AND I LISTENED .. I HOPED TO HEAR THE WHISPER .. I DIDN'T BUT IT DIDN'T CHANGE THE FEELING OF THE PLACE OR THE VIEW.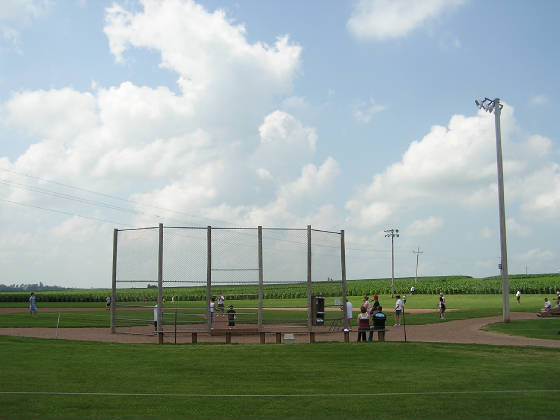 BEFORE I LEFT I HAD TO TAKE ONE MORE LOOK .. I'LL NEVER FORGET MY 30 MINUTE VISIT TO A FIELD SURROUNDED BY A CORN FIELD.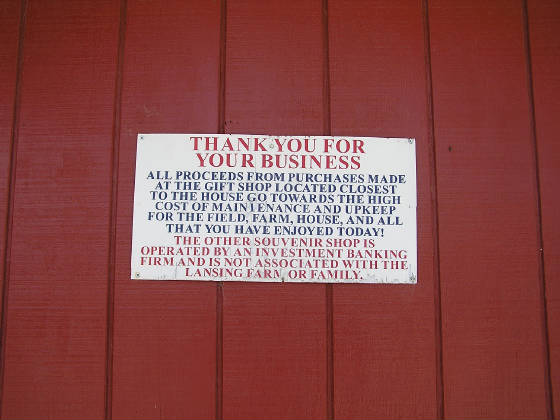 A REMINDER OUTSIDE THE SOUVENIR STAND ON THE FIRST BASE SIDE OF THE SITE.
SEND ME AN E-MAIL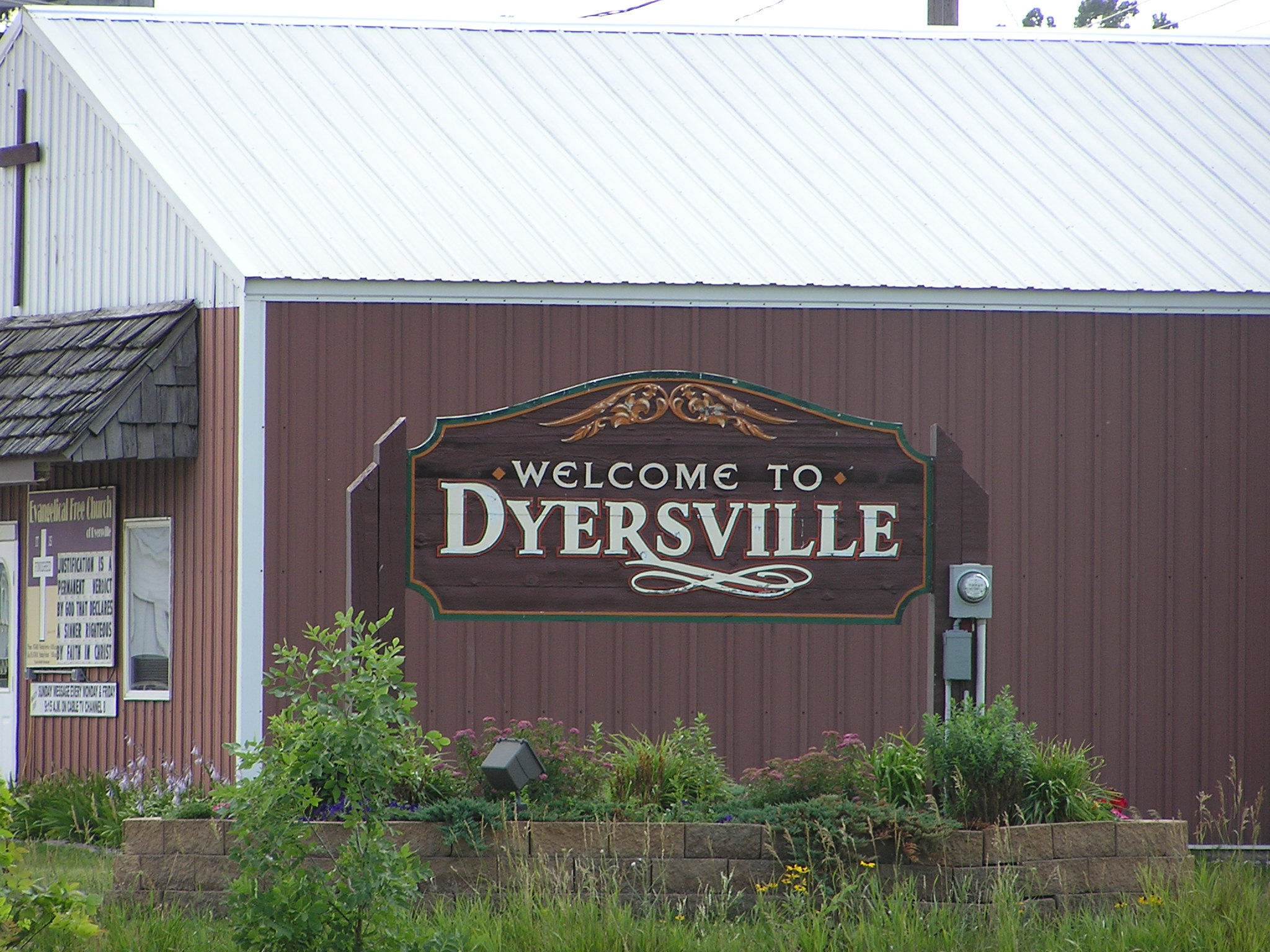 LINKS
The Official site of the "Field of Dreams" movie site
Dyersville weather from WEATHER.com

© 2000-2012 UNCLE BOB'S BALLPARKS
I AM IN NO WAY AFFILIATED WITH ANY OF THE TEAMS ON THIS PAGE ... THIS PAGE IS MEANT FOR INFORMATION PURPOSES ONLY.